Horley Lions Club
Horley Lions Club CIO Registered Charity No. 1179840
Serving Horley, Reigate, Redhill and the surrounding Villages
PART OF INTERNATIONAL ASSOCIATION OF LIONS CLUBS - DISTRICT 105SE ENGLAND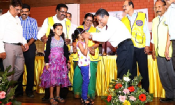 Children in Calicut, Kerala, India receive eyeglasses at a Sight for Kids vision screening.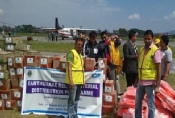 Lions Charities
Lions Clubs International Foundation (LCIF) was founded in 1968 and is the mainstay of the drive to help those in need be it from a natural disaster or to help communities around the world.
Disaster Relief.
When disaster strikes anywhere in the world it is essential that aid is available urgently, here Lions Clubs are in a unique position as the local Clubs can asses the situation and make a request to LCIF. Within a few hours a grant can be approved and the money transferred to the local Lions Clubs empowering them to support the various stages of disaster relief operations. In the period July 2021 to October 2021 LCIF had awarded 55 disaster relief-related grants totalling US$1,730,948 . These being for tornados, floods, wildfires, earthquakes etc.
Community Needs.
SightFirst. Helen Keller was born in 1880 in the USA. At the age of 18 months she developed a fever which left her blind and deaf. In 1925 she attended the Lions Clubs International Convention and she challenged Lions to become "knights of the blind in the crusade against darkness". The Lions accepted her challenge and our work ever since has included sight programs aimed at preventable blindness.
The efforts of Lions in the field of vision are expansive and well documented. Our SightFirst program has played a key role in reducing global blindness—building comprehensive and sustainable eye care systems, including projects that deliver eye care services, build or strengthen eye care facilities, train professionals and build awareness about eye health in under served communities.
Since 1990, SightFirst has played a major role in helping restore, improve and preserve the visions of millions around the world.
More than US$372 million approved for over 128 projects in 117 Countries

9.6 million cataract surgeries performed to restore sight

1,351 eye centres and training institutions built, expanded or equipped

2.3 million professional eye care and community health workers trained

197 million doses of Zithromax® distributed to control trachoma and more than 955,000 surgeries performed

325.8 million doses of Mectizan® distributed to halt the progression of onchocerciasis
Lions International Blood Research Appeal (LIBRA) is dedicated to raising funds for the Haematology Department at King's College Hospital in London. They are the only charity which solely campaigns for these world renowned laboratories and haematology wards.
Blood disorders and blood cancers affect people of all ages and with our support King's is able to provide patients with the best care and treatments available. We raise funds to cover ward and laboratory developments, along with state-of-the art equipment that is vital in the treatment process.